Get unparalleled access to institutional-quality real estate deals online.
Diversify your portfolio today.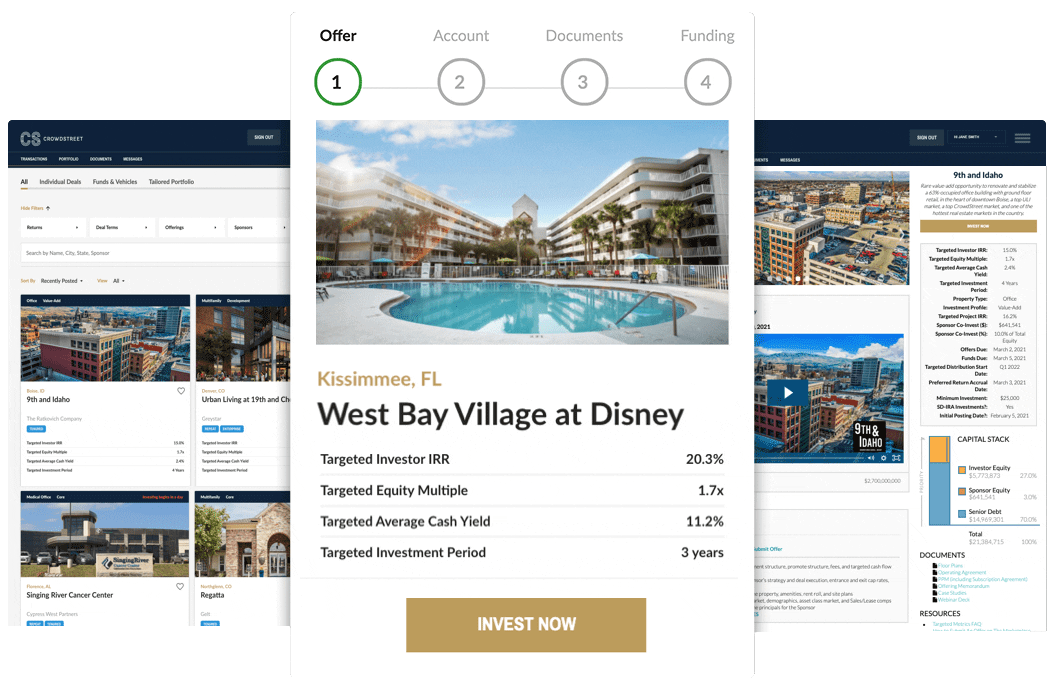 Current Investment Opportunities
New deals launch every week. See what's on the Marketplace today.
CrowdStreet Marketplace Performance**
Thousands of investors have used the CrowdStreet Marketplace to invest more than $1 billion across hundreds of deals, earning millions in distributions.
Deals
Total number of deals launched on the CrowdStreet Marketplace
Capital Raised
Total funds invested through the CrowdStreet Marketplace
Investor Distributions
Total funds returned to CrowdStreet Marketplace investors to date
Discover why thousands of investors have chosen CrowdStreet.
The CrowdStreet investor community gets direct access to the industry's biggest sponsors and their projects. No other platform has the reach of CrowdStreet, so you can build the real estate portfolio you want across risk profiles, geographies, property types, and more.

"The CrowdStreet platform gives the individual investor access to participate in CRE transactions that were virtually unavailable to us in the past. The quality of the sponsors and the quality of the investments continue to grow and improve as the CrowdStreet platform grows. I have not invested in any other CRE investments outside CrowdStreet. There are actually so many quality investments that become available to review, it's getting harder to choose which ones to invest in. Nice problem to have!!"
Steve, CrowdStreet Marketplace Investor